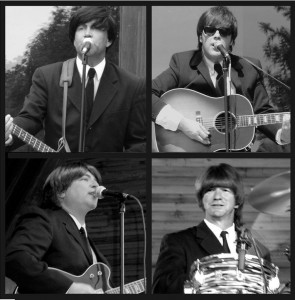 SHOUT's extraordinary performances include songs from the Fab Four's first U.S. releases like "I Want To Hold Your Hand," "She Loves You," "Twist And Shout" and "I Saw Her Standing There," as well as an ensemble of eclectic tunes such as "Penny Lane," "Paperback Writer," "I Am The Walrus," and "Hey Jude".
Instruments and a certain look, of course, add flavor to SHOUT's performance. Band members were careful to acquire the correct guitars, amps and drums, and use those acquisitions proudly. Each piece is dated as closely to the Beatles' own as possible.
Greg's(John) on-stage collection includes a Vox AC-30 amp, a black Rickenbacker 325 guitar, a Gibson J-160E acoustic and an Epiphone Casino. John(Paul) uses a Hofner bass, a Rickenbacker 4001 and Vox Bassman amp. Jim(George) plays a Gretsch Country Gentleman, Rickenbacker 360-12, and Fender Rosewood Telecaster guitar, and uses a Vox AD120VT amp. The kit of choice for drummer Kevin(Ringo) is a 1958 Ludwig Black Pearl set.
And where would a Beatles band be without the right clothes? SHOUT! strives for authenticity, from cuban-heeled boots to moptop hair. They even sport tailor-made suits like the fab four, including the famous Sgt. Pepper outfits.
From head to toe, this fantastic tribute to the fab four is everything an audience might expect from a Beatles tribute band and more. Everybody's talking about SHOUT! and the group continues to gain more and more acclaim with each performance. And you know that can't be bad….